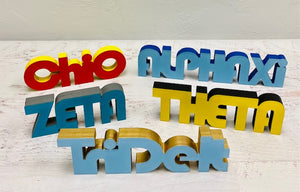 Description
Sorority nickname decor.  Perfect for a desktop or shelf.  Fun, unique addition to any gift basket.  Easily add a pop of color to your room with these.  
Free standing decor.

Two-toned color scheme with acrylic face.

Approx. 3/4" thick
Size
Standard size: 3" Tall

Questions??
Have a group order to place?  Do you need to order a specific size?  Have shipping questions?  Please click on the page links below to learn more.